WE'RE STILL HERE!
Like everyone in California, the Fairplex Garden Railroad has been deeply affected by the Covid-19 pandemic. After participating in the very successful STEAM 2020 technology fair, we were asked by Fairplex Administration to stop all visitations or activities at the railroad on March 12, 2020.
This continued until July, 2020 when Fairplex allowed a crew of four volunteers access for maintenance on Wednesdays from 8 AM to noon. Volunteers were met in the parking lot and underwent screening for Covid-19. It took volunteers about 4 weeks to completely clear the layout of the major weeds and unwanted growth.
At this time, we are still working with limited volunteers although we hope to be allowed more workers in the future. We have started some maintenance projects primarily from projects tabled from 2019.
In late April, Fairplex started acting as an emergency intake site, housing migrant children who entered the United States from Mexico. (https://abc7.com/pomona-fairplex-migrant-children-border-mexico/10563479/) Facilities for this program are adjacent to our layout so access to our exhibit is restricted to a few volunteers. There are no current or future plans for public visitations, public shows, or even larger events for volunteers. We will continue to plan activities as per Fairplex guidelines.
Please check back with us for new updates, current information and news about future activities. In the meantime, 
we are currently updating our web page
so please check back frequently for updates.
We look forward to the future and the hope of seeing our friends and visitors again!
THE FAIRPLEX GARDEN RAILROAD
THE OLDEST AND POSSIBLY THE LARGEST GARDEN RAILROAD EXHIBIT
First established in 1924 and moved to its present location in 1935, it was a unique example of craftsmanship utilizing hand-made replicas of real railroad operating equipment; much of which were built by local high school students. Examples of this equipment are on display in the present shop building located in the rear center of the Garden Railroad. Today, there is over 10,000 feet of operating track, double the amount in 1996, and over thirty sections with various operating equipment can be seen operating at any time, especially during the annual Los Angeles County Fair each September. The various trains and trolleys operate past several scenes depicting California history from the 1850s to present day, and wander through the mountains, over the lakes and streams, and through the gardens. The Fairplex Garden Railroad has been featured on Public Broadcasting System (PBS) television and in the hobby magazine Garden Railways, as well as many international publications in England and Europe.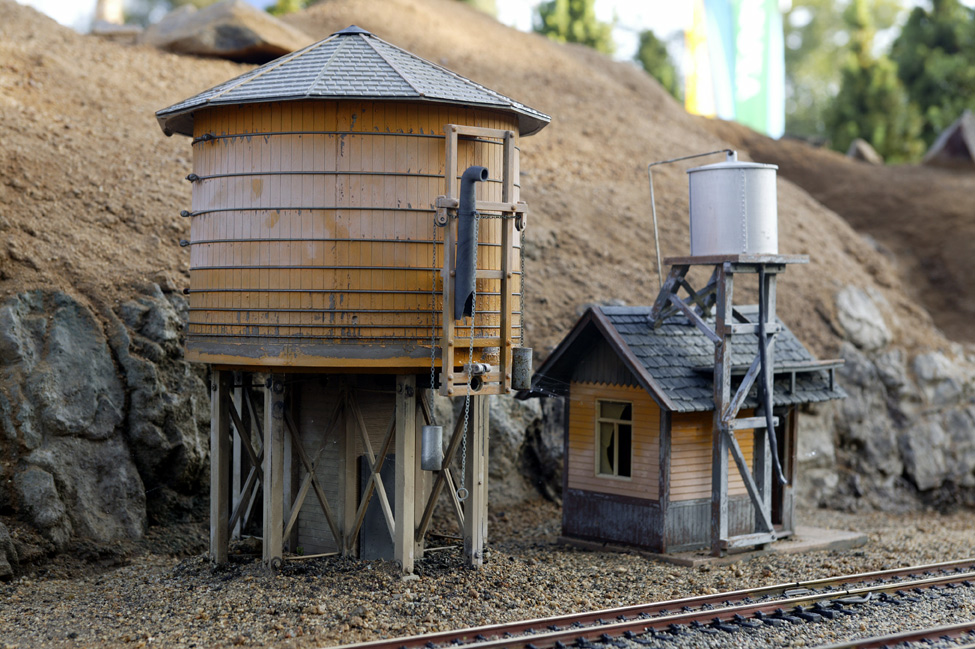 Garden Railroad News & Videos