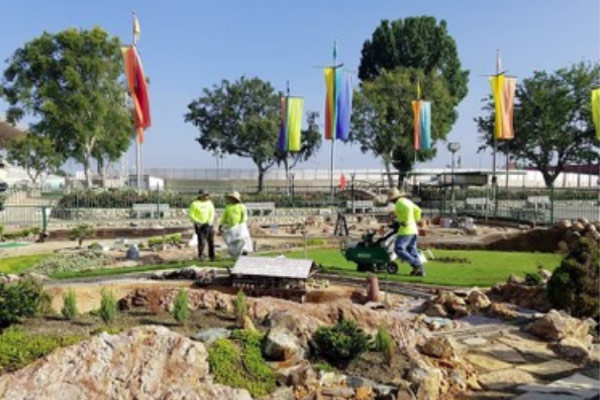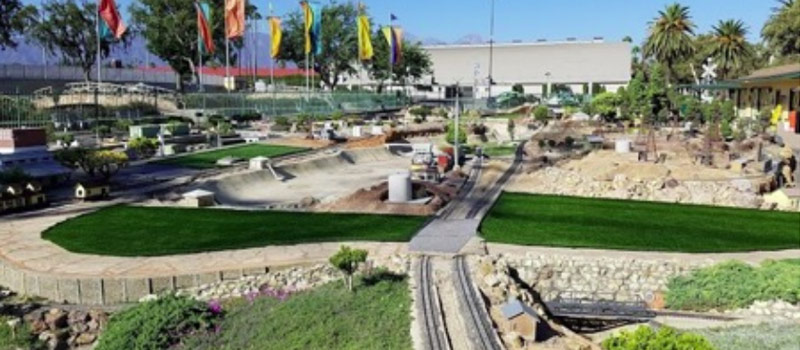 Artificial Grass Installation by Purchase Green®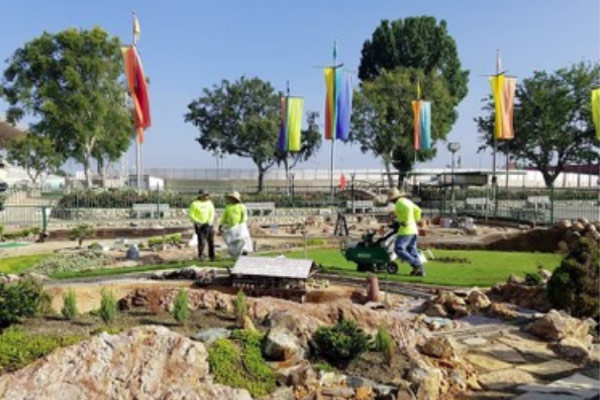 The team from the San Dimas store working hard on the artificial grass installation
Imagine what it takes to manage a world-class garden railroad the size of a football field. One with thousands of feet of track, hundreds of rolling stock, and countless hand-built miniature buildings and features. And of course, there's the impeccably maintained grounds.
What it takes is a small army of volunteers. Many hours are spent on the gardening aspect of the layout, and grooming the numerous lawns has been a top priority. And, lawn care has become much more challenging due to California's severe years-long drought.
The FGRR Leadership Team and Fairplex management determined that artificial turf would be a fitting upgrade for the Railroad. More important than the savings in labor and upkeep is the significant reduction in water usage this move would make.
Not just any artificial turf would do for such a historic attraction. Realism and durability had to be top-notch.
Enter Purchase Green.
Rising above the competition with their high quality product, Purchase Green was chosen to replace the layout's thirsty lawns with an ultra-realistic, long-lasting and eco-friendly alternative.
Their team of professional installers took great care while working around the fragile G scale environment. A low pile height, 1.125" turf called Southwestern Sod Sport was selected to blend with the natural trees and foliage of the garden areas.
In addition to the installation, Purchase Green will maintain the turf annually to ensure that the railroad attraction is in great shape for the Fair.
The FGRR volunteers and the Fairplex would like to thank Christine Charland, Moises Barragan and the rest of the crew from the San Dimas store for their outstanding work.